Building trust is one of the biggest challenges facing businesses and website owners today. How can you develop trust with visitors and customers? Audiences are becoming increasingly savvy, viewing testimonials as little more than poorly disguised advertisements. It's clear that there needs to be a better way to share authentic peer-generated content and incorporate this into our content strategies. And there is. It's called Trustindex, and it's brilliant for boosting social proof. 
What is Trustindex?
Trustindex is a WordPress reviews plugin that has two distinct purposes. Firstly, it can help you generate reviews through a built-in review invitation system. And secondly, it can help you publish and share reviews – from a whole host of different platforms – right there on your own WordPress website. It's designed for both big and small businesses, from a tiny blog to a huge ecommerce site. 
What really makes Trustindex stand out is its range of integrations. Trustindex can pull reviews from 46 different platforms, and embed these into your WordPress site. You can see our own reviews page which we have embedded our Trustindex feed on here – see our reviews (opens in a new tab). Supported channels include Google, Facebook, Hotels.com, Amazon, Tripadvisor, Airbnb, and Yelp… and there are plenty more. Trustindex users report an average 17.7% increase in sales, according to the plugin's developers.
How much does Trustindex cost?
To share and collect reviews across a single WordPress website, it's just $65 for the year, which includes 12 months worth of updates. The Pro package covers up to 5 websites and costs $125, while the Ultimate package costs $349 per year for as many sites as you care to throw at it. There's a 7-day trial (with no credit card details needed!) that allows you to try out Trustindex. A 30-day money-back guarantee covers you if you decide that Trustindex isn't the right WordPress review plugin for your website. 
There is actually a free version of Trustindex for WordPress, called 'Widgets for Social Reviews & Recommendations'. This is a very basic version that simply allows you to share reviews from a small selection of channels. It's definitely a good way to try it out, but if you want to benefit from all the features – including review generation and access to all 46 platforms – it's worth getting the full plugin.
How does Trustindex work?
Trustindex works by creating a connection between the Trustindex platform and your business accounts on multiple sites, pulling down reviews from these third-party platforms and adding them into Trustindex widgets. Once you have the code for these widgets, you can insert this into WordPress, collating your reviews from across the web into a single page for audiences to read, helping to build their trust.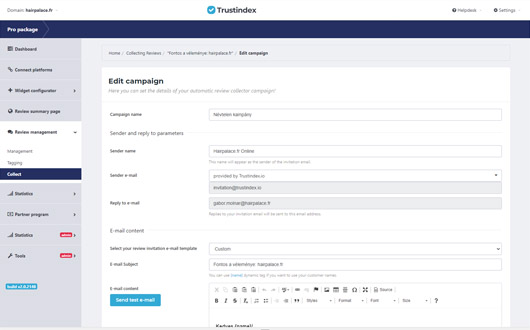 How do you generate reviews with Trustindex?
Once you've selected your plan and signed up for a Trustindex account, you can log in to your Trustindex dashboard and click on 'Collect Real Customer Reviews'. By selecting 'Add a Campaign', you can design and develop an outreach email to send to your customers, asking them if they would leave a review. 
You can enter your own personalised content into your email, or simply select one of the pre-made email templates. When you're happy, click 'Manual' to paste in the email addresses you want to send your request to, and send. All that's left to do is sit back and watch the reviews come rolling in.
How do you embed reviews with Trustindex?
If your customers are already leaving reviews all over the web, you can use Trustindex to bring these together and embed them into your WordPress site. Here's a simple guide for how to do just that:
In WordPress, go to Plugins > Add New
Use the search function to search for 'Trustindex'
You'll be shown results for separate widgets for each supported channel
Select the plugin for the widget you want (e.g. 'Widgets for Trustpilot' or 'Widgets for Google')
Install and activate the plugin
Select 'Settings', type in your business name, and click 'Connect' to link to your account
Choose your widget layout, style, and settings (eg. your filter options, language, and date format)
Copy the shortcode that's been generated
In 'Pages', select the page you want to display the widgets on
Right-click in the body of the page where you want the widget, and paste in the shortcode
Pros and cons of Trustindex
Pros
Trustindex alternatives
We're pretty sure that there's no other WordPress reviews plugin that covers the range of third party review platforms that Trustindex does. But not every plugin will be the right choice for all businesses. If you're looking for an alternative, there are some great ones out there that are definitely worth considering.
WP Business Reviews and Trustindex are incredibly similar. They have a number of the same features, such as review filtering to hide negative reviews, and a whole bunch of presentation options. WP Business Reviews does have a few added features that are quite interesting. These include organising reviews by tag, or manually adding reviews from unsupported channels (which is necessary as WP Business Reviews currently only supports 5 platforms.) It has a similar price point to Trustindex, too.
Unlike Trustindex and WP Business Reviews, Starfish reviews is a review request plugin only. This means it doesn't allow you to share reviews across your WordPress website, but instead encourages customers to leave a review. It works by sending emails to customers asking whether they liked or disliked their experience. For those that select 'like', it provides a URL to the reviews section of your website, asking customers to share their thoughts. As a request service, it's good, but it lacks Trustindex's rich features. 
Trustindex summary
If you're looking to both generate reviews and share reviews from third-party platforms at the same time, then give Trustindex a try. While there are WordPress reviews plugins that are very similar, none of them covers the same broad selection of platforms that Trustindex does. This really is the best way to ensure none of your great reviews are being missed out or left behind. Today, more than 20,000 businesses use Trustindex. But if you don't feel it's the right choice for you, don't worry. Check out our favourite WordPress tools to explore some other great marketing plugins that can help you grow.